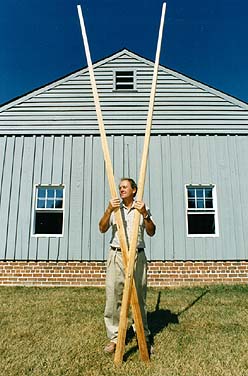 Its all about quality
James E. Harvey Millwork, Inc. has been in the restoration business for over thirty years, and has built a tremendous reputation with its wide portfolio of local and national clients.
Harvey Millwork specializes in creating high quality custom flooring, stair parts, and paneling from top grade FAS lumber. Our preferred wood is first and second growth Long Leaf Heart Pine and reclaimed Long Leaf Heart Pine. Harvey Millwork also works with a variety of other woods including: black walnut, cherry (Brazilian and domestic), mahogany, teak, red oak/ white oak, maple, ash, and hickory.
Harvey Millwork is a full service millwork shop, not just another middleman. It hand-selects each piece of FAS grade lumber from various suppliers around the world, then custom cuts each board for a job. Our solid wood flooring is at least 3/4" thick by 3" to 11 1/4", up to 12' in length, a full 1/4 thicker than most of their competitors. This high grade of wood is meant to outlast several generations, resulting in a difference that their customers can feel.
Because it is custom work, the company needs time to produce what you want. When you call, be sure to ask how much lead-time is needed for your order.
Browse through our web site. Each page is filled with information, hints, suggestions, pictures, and stories about the work James does. If you like what you see, give us a call. Better yet, stop by our house/showroom and see for yourself what we mean when we say "We stand on our flooring." ™
Sincerely,
Anna Harvey
President, James E.Harvey Millwork, Inc.