While talking with a couple in our booth (at one of the shows we do), my wife noticed a distinguished looking man with silver hair listening to what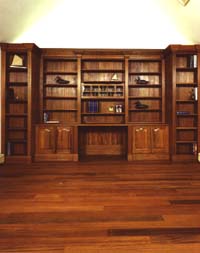 she was saying and admiring our workmanship. After the couple left she walked over to the gentleman and asked if he had any questions that she could answer for him. They talked for a few minutes.

With questions answered the gentleman thanked her for the time. About ten minutes later this gentleman was back, and this time he had his wife and friends with him. The gentleman kept saying this would look great in his new room. The people with him laughed and moved on.

Time passed and then a phone call from the gentleman requesting samples of wood, and asked if we would look at his floor plans. The gentleman and his contractor came to our house/shop, ordered Brazilian Cherry flooring, fireplace mantel, and asked for suggestions about a computer workstation. One thing that kept coming up, this gentleman wanted everything for the same time period he was building in, and asked us to help him stay within that period.

Measurements were taken off his plans and from job site. We make sure that we have enough material to cover the job. With exact measurements, my wife set down to do the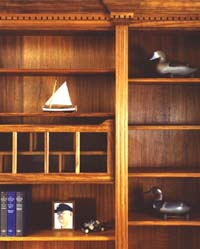 architectural drawings. See examples of DETAIL DRAWINGS. Some drawings approved, work could be started. Getting approval of the drawings is not always achieved the first time around. The mantel drawings were to be redone. Requests were made to allow most of the brickwork to show and use the same dental molding and fluted pilasters that are to be used in the workstation. Five mantel drawings were submitted to select from.
For this job, we made and installed the flooring, workstation, and mantel. Supplied the contractor with the moldings, trim and chair rail for the rest of the room.
Yes, this all takes time and craftsmanship. The pictures our photographer took state,
It is worth all the time and effort to have the room a man can call his own.
[One Room Wide] [Room With A Loft] [We Create] [Every Man] [Steps In Reclaimed Material]
[Home] [Services] [Craftsmanship] [Wood] [Gallery] [Reclaimed] [Contact]